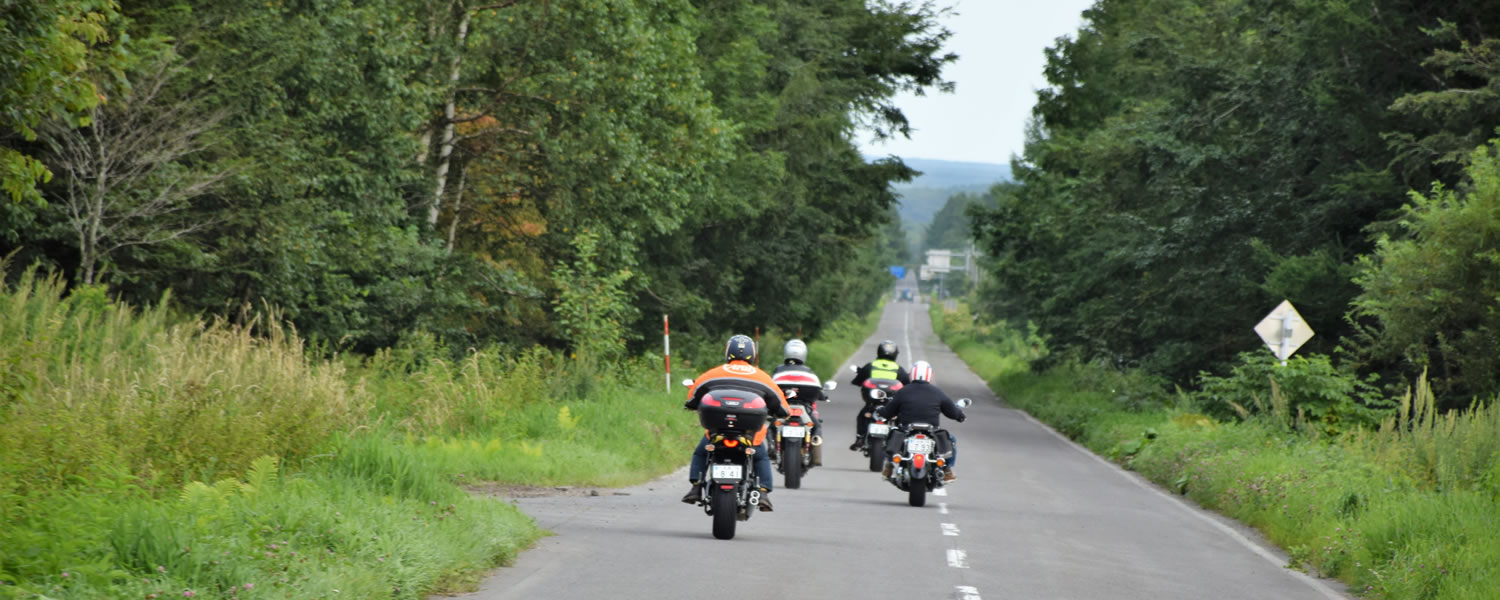 Tours
We offer our original tours to fulfill our clients' request. Please do not hesitate to inquire us, what, when, where, in a group of how many people you would like to do. We will create the best tour plan discussing with you based on your needs.
You may say, "I just don't know what to do" or "I would like to leave it up to you" but that is always welcome, too. We will provide you our best plan for your requirement.
<Example of highlights in each area.>
●Shoryudo (Dragon Route)
Season: March through October
Highlights: Shirakawago village, Chirihama Beach ride, The Cormorant Fishing experience in Nagara river(May~), Noto Kashima station in the cherry blossoms season, etc..
●Hokkaido
Season: Late May through October
Highlights: Spectacular natural beauty, the Rollercoaster road, Lavender field in Furano(July), etc..
●Tohoku area
Season: June through September
Highlights: Oirase mountain stream, Mt. Iwaki, Bandai Azuma Skyline road, Goshiki Numa ponds, Hachimantai Aspite Line roads.
●Izu-Hakone-Mt. Fuji area
Season: March through December
Highlights: Hakone Turnpike, Izu Skyline, Nishiizu Skyline, Fuji Subaru Line, etc..
●Kanto area
Season: March through December
Highlights: Nikko Toshogu shrine, Nikko Iroha winding roads, Mt. Haruna, Venus line, Kusatsu hot spring resort, the highest point of national route, etc..
●Shikoku area
Season: March through December
Highlights: Seto bridge, Shimanami Kaido (the highway connecting the small islands), the submerging bridge(during high water) of Shimanto river, Iya-Kazura(vine) bridge, Katsura beach, Shodoshima island, Giant vortex in Naruto, etc..
●Kyushu area
Season: March through November
Highlights: Aso Yamanami highway, Daikanbo lookout, Takachiho valley, Nakatsu castle, Ibusuki Skyline roads, etc..
●SNOWBIKE in Hokkaido <New!>
Season: December through March (Depend on snow condition)
Highlights: Very new attraction in winter time in Japan. Ride motorcycles on snow is so much fun! The machines are typical motorcycles without tires. Instead of front wheel, a ski for a front wheel and caterpillar for a rear. If you ride motorcycles you can do this easily of course. If you don't have experience, no problem! brief lesson makes you a good SNOWBIKE rider. You will able to see scenic white field and blue sky on a top of mountain after cross country tour!